Avidien
microPro 300
Benchtop 96 channel pipettor
The world's smallest 96 channel semi-automated benchtop pipettor. Flexible multi-function pipetting; from simple to more complex liquid handling steps.
Download Specifications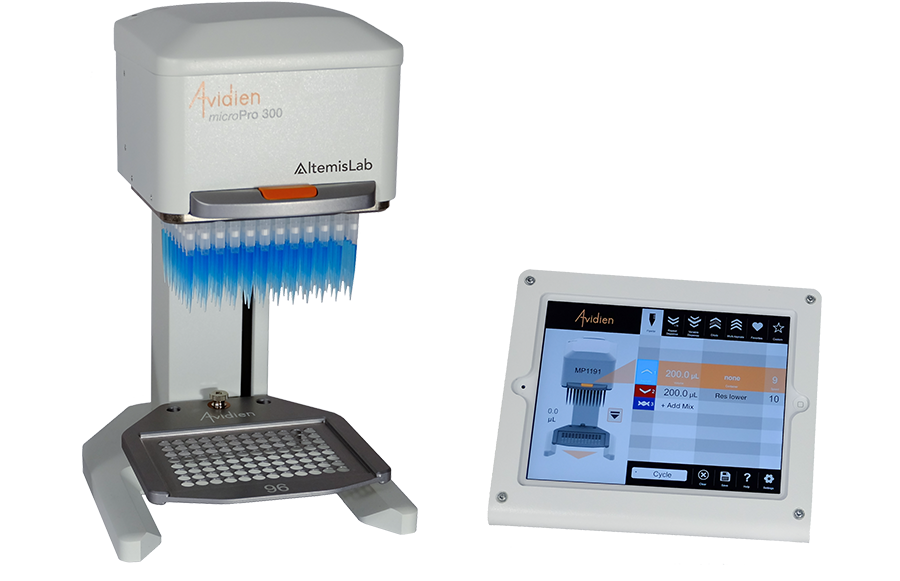 User friendly
All features are programmable using the intuitive iPad app.
RingLock tip system
Simple and easy tip changes. Touchless tip ejection, reducing the risk of contamination.
Pipetting depth recall
Customisable depth settings can be saved and used for most manufacturer's plate types.
Custom programs
Create programs and arrange steps in any order, including unique instructions in long and complex assays.
Easily recall programs
Store regularly used programs in favourites and organise them by name, type and date.
10x speed control
Choose speed settings for any aspirate and dispense operation.
384 well plates
Switch from 96 to 384 well plates quickly and easily with the 96/384 nest converter.
Special liquids
Create and save unique calibration settings for special liquids and re-use these settings during any program.
Optional two position stage
Allows 2 pieces of labware in the upper nest position and access to a reservoir in the lower nest position.